TheFitExpo Chicago 2017

Like every year, the city of Chicago will again host TheFitExpo.
What is TheFitExpo? Follow along with this ongoing post to learn more about it.
Excited about sports, nutrition, and supplements?
If you are, then TheFitExpo is for you.
Want to get tickets in advance?
CLICK HERE TO VISIT THE FITEXPO WEBSITE!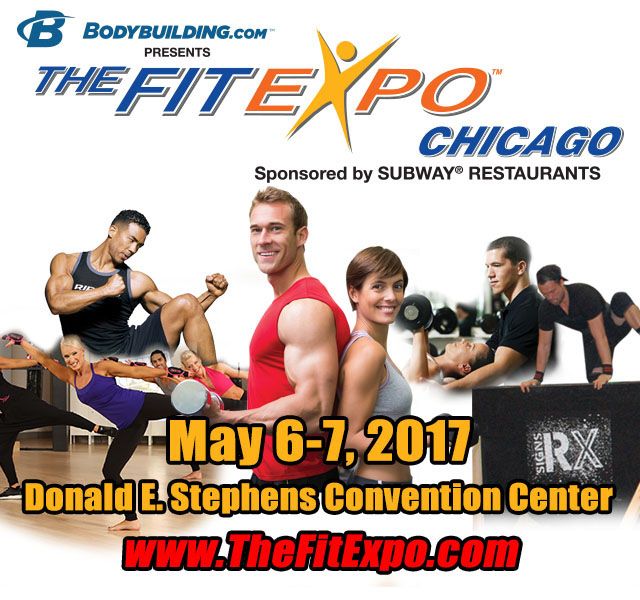 Some of the events include:
Battle of the Bars
Dodgeball Competition
Fitness & Star Model Search
Viking Visegrip Armlifting Challenge
Group Training Zone
Healthy Living Pavilion
Kids & Youth Activities
Max Reps Competition
Powerlifting Competition
Strongman Competition
lots more…
Some of the sponsors include:
bodybuilding.com
SubWay
Performix
GNC
U.S. AirForce
lots more…
If you've never visited the Donald E. Stephens Convention Center, you're in for a treat. Here's a brief video about it and its surroundings:
And here are a couple videos from last year, when I went for the first time. I really enjoyed it. The first video is a brief segment of "Battle of the Bars" and the second is a segment of the controversial "Slap City" done by Kali Muscle 🙂
I believe "Slap City" has now been discontinued, for obvious reasons 🙂 There were some rumors that it will be back, but I am not sure. I do know, for a fact, that Kali Muscle actually IS coming to Chicago again this year. Enjoy the videos.
EDUCATIONAL SEMINARS
FIT BIZ BASICS 101
Saturday, 11:00am – 12:30pm
If you ever thought about quitting your job and starting a career in fitness, don't miss this 90-minute workshop on how to get started in personal training.
Learn which certifications you should look at, how long it takes to start your own business, retain clients, program workouts and basic information on getting started in the Fitness business, including a 90 minute course plus take-home workbook, fit cards workout deck.
Ealry bird pricing: $49 before April 28th After $59 – Includes a same day ticket to THEFITEXPO ON MAY 6TH.
Andrea Metcalf is one of the nation's top fitness experts. With more than 30 years in the fitness industry, Andrea has appeared on the NBC Today Show, Steve Harvey, USA Today, Oprah.com, Reuters Health Report, More.com, Better TV and local Chicago NBC, Fox, CLTV, WGN, ABC & CBS stations. She is the best-selling author of "Naked Fitness", Vanguard Press, fitness pro with the American Council on Exercise, fit star on TrainerPass.com, and owner of Hang 5 Fitness, Health Inspired Events and Tasty Facial Bar.
SURF YOGA MASTER CLASSES
Sunday 11:00am, 12:00pm, 1:00pm & 2:00pm
Join Celebrity fitness instructor Andrea Metcalf & team to try to the hottest new Yoga class ever! SURF YOGA is performed on the Surfset Fitness boards as seen on SharkTank! This new Yoga program is a core challenging class where you'll be present for every move. A 40-Minute Yoga Class that feels like you're on a paddle board in the ocean! Get a jump on summer with Stand Up Paddle Yoga without the water, bathing suit or waves!
Sunday May 7th – SURF YOGA MASTER CLASS – $30 per class (includes Sunday FitExpo Ticket)
Registration includes a same day ticket to THE FIT EXPO ON MAY 7TH.
BE SURE TO REGISTER FOR THE CORRECT TIME!
Classes are 45 minutes and you may sign up for 11am, Noon, 1pm or 2pm class times. $30 PER CLASS
Entourage Pricing- Get a discount when you bring 3 of your friends! Entourage pass allows 4 people into the class – Save $10 and get TheFitExpo ticket free!
MAXIMIZING YOUR MARKETING
Saturday, 1:00pm – 2:30pm • Room: TBD
Join marketing wizard Kymberlee Kaye Raya for this insightful session on brand marketing. Marketing is more than social media, it's more than email marketing – a cohesive marketing plan includes all facets of getting your brand out there and truly remembered. This power-packed session will help you put a rock-solid plan in place. Powerful strategies that won't break the budget – and inspiration to get you marketing the right way!
Session Price: $40 – includes FitExpo Ticket for Saturday
Kymberlee Kaye Raya has an extensive background in marketing, with an emphasis in Branding and offers almost 20 years of marketing and branding expertise. Kymberlee built Big Shot from nothing; a one woman show has grown in the last 20 years to a thriving, growing business. Her creative, mind combined with her knack for excellent business strategy, continues to drive Big Shot to the forefront. Kymberlee is a visionary; she sees things in their entirety, the short term and long term, the beginning and the end. She envisions the whole scope and leads her team from execution through the whole campaign. She is proud to manage a team of talented folks internally while simultaneously relating to clients and their needs.
A passionate advocate for creativity and innovation, Kymberlee is a sought after speaker and presenter. She was recently featured as a guest speaker on WGN Radio. A talented and generous individual, Kymberlee is a Team Leader for Chicago Cares for over a decade and volunteers on a regular basis.
Want To Register For Any Of These Seminars?
CLICK HERE TO REGISTER
One Week Left Till ShowTime!!!
So I've been placing these all around town: health clubs, gyms, universities, you name it. If anyone in the Chicago area would like a discount coupon, send me an email and I will hook you up.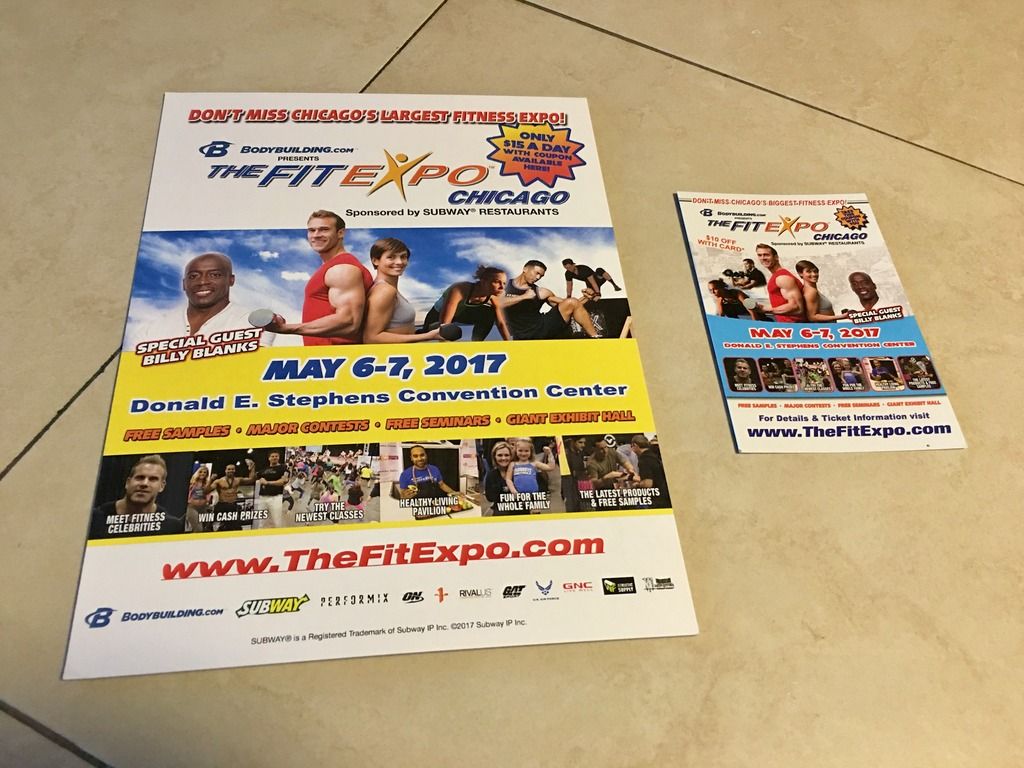 =============================================================
=============================================================
=============================================================
The event was this past weekend.
Here are some thoughts about my experience.
This was the second year I attended.
Took my son along. He is 15.
He started lifting last year.
Taking Advanced WeightLifting in high school right now.
Doing really well with it, too.
We had a blast.
The first time I went, last year, I went for the supplements.
Lots of supplements there, for anyone who needs them.
Lots of deals and also lots of free samples.
Got some samples this year, but didn't spend a lot of time looking for that.
Spent more time just exploring different brands, some that I never saw before.
Also spent time watching some of the events and competitions, as well as some interviews.
My favorite thing about it is the VARIETY of things to see.
There's something for everyone, no matter what sport they are into.
Also, the general audience is not just bodybuilders.
I like that, because I am not a "big" guy.
There were some big & buff guys and gals, but there were also lots of fit, normal-looking folks.
I fit right in with them
My favorite event was the GAT Bicep Curl Max-Rep competition.
It was one hour long, and we had our lunch while sitting down and watching it.
The presenter was quite funny. Great competitors also.
I also enjoyed watching some weightlifting. Some pretty strong people there.
My favorite supp booth was Dymatize.
They had tons of protein bar samples, and I made sure to "casually walk by" multiple times just for the heck of it … I had bought at least 10 boxes of these bars before, so I am very familiar with them. I never buy them when on a cut, because I can't eat just one… I've been on a cut since March, so yeah…
I also liked the Flex Comics booth.
Pretty awesome stuff
We only got to go Saturday.
I wish we could have gone on Sunday, to see some of the other competitions and the "best in show" awards as well.
Really enjoyed this event.
Already looking forward to next year's edition
Here are couple videos I made.