20,000 Push-ups In 2017
Back in 2015 when I started on this journey to transform my body, I tried to do some push-ups one evening. I cannot recall the exact number of push-ups I was able to do that evening, but I know for sure that none of them were actual push-ups, because I was not able – mentally or physically – to complete even one full rep… so I did a few sets of standing (wall) push-ups.
I've come a very long way since then, with hundreds, even thousands of completed push-ups in 2015 and 2016.
This post will be used as a log for my personal challenge to complete 20,000 push-ups in 2017.
PROCEDURES:
Count every single push-up that I do during the year, whether it is just a small number, whether it is multiple sets in a longer session, whether it is one single max-out set.
I am going for muscle failure, so instead of going for 55-60 push-ups each day, I will go for 2-3 weekly sessions containing higher total reps (150-200) in sets of 10 or 20, totaling 300-500 reps each week.
Use different types of push-ups at different times, for variety, and also to keep my muscles guessing: regular, elevated, IronGym, Handle, Dumbbell, etc.
Keep a tally of all the completed push-ups, and share it here.
Document every single push-up on video.
Do at least one log entry every week, which would include a completed tally-up, videos, photos, impressions, supplementation, etc.
I invite you to join me on this journey! You can do so by checking in regularly for my updates in here, by subscribing to my YOUTUBE, TWITTER, INSTAGRAM, and FACEBOOK channels.
Maybe you can start your own push-up challenge and see how far you can push yourself. If you do, make sure to let me know about it so I can follow your progress.
Thank you for following along on my "20,000 Push-ups in 2017" challenge.
Happy New Year!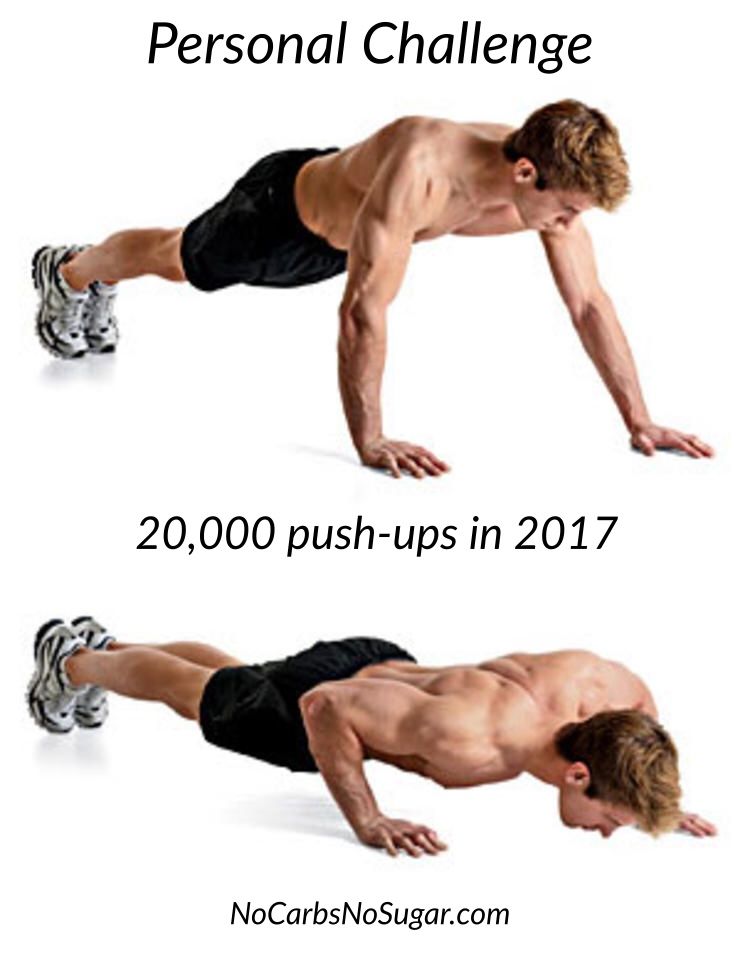 ~~~~~~~~~~~~~~~~~~~~~~~~~~~~~~~~~~~~~~~~~~~~~~~~~~~~~~~~~~~~~~~
Push-up Session #1


Monday, January 2, 5:30 AM


Total Push-ups This Session
10X12 = 120
Grand Total Push-ups
120/20,000
Supplements
Intra: Champion Performance Amino Shooter Edge, 1 scoop
Post: Champion Performance Syn Matrix, 1 scoop
Comments
I got fluffy over the holidays…
Operation "De-Fluff" happenin' right now 🙂


~~~~~~~~~~~~~~~~~~~~~~~~~~~~~~~~~~~~~~~~~~~~~~~~~~~~~~~~~~~~~~~
Push-up Session #2
Thursday, January 5, 4:30 AM
Total Push-ups This Session
10X12 = 120

Grand Total Push-ups
240/20,000

Supplements
Intra: Champion Performance Amino Shooter Edge, 1 scoop
Post: Champion Performance Syn Matrix, 1 scoop

Comments
Tried sets of 12 today
That resulted in muscle failure creeping in earlier

~~~~~~~~~~~~~~~~~~~~~~~~~~~~~~~~~~~~~~~~~~~~~~~~~~~~~~~~~~~~~~~
Push-up Session #3
Saturday, January 7, 8:00 AM
Total Push-ups This Session
10X14 = 140

Grand Total Push-ups
380/20,000

Supplements
Strong Coffee 😀

Comments
Broke my camera tripod
Ordered another one online

~~~~~~~~~~~~~~~~~~~~~~~~~~~~~~~~~~~~~~~~~~~~~~~~~~~~~~~~~~~~~~~
Push-up Session #4
Monday, January 9, 6:30 AM
Total Push-ups This Session
10X14 = 140

Grand Total Push-ups
520/20,000

Supplements
Champion Performance ASE & Syn Matrix

Comments
Didn't have time to change from pajamas 😀

~~~~~~~~~~~~~~~~~~~~~~~~~~~~~~~~~~~~~~~~~~~~~~~~~~~~~~~~~~~~~~~
Push-up Session #5
Thursday, January 12, 5:30 AM
Total Push-ups This Session
10X15 = 150

Grand Total Push-ups
670/20,000

Supplements
Champion Performance Amino Shooter Core

Comments
Dog left his toy on the couch
Too early for him to wake up 🙂

~~~~~~~~~~~~~~~~~~~~~~~~~~~~~~~~~~~~~~~~~~~~~~~~~~~~~~~~~~~~~~~
Push-up Session #6
Saturday, January 14, 6:30 AM
Total Push-ups This Session
10 X 16 + 20 = 180

Grand Total Push-ups
850/20,000

Supplements
PreWorkout: Strong Coffee mixed in with Diet Pepsi 🙂
PostWorkout: Champion Performance Syn Matrix

Comments
Can you see our dog snick in and out in there?
He stayed for a few moments but then went straight back to bed 🙂

~~~~~~~~~~~~~~~~~~~~~~~~~~~~~~~~~~~~~~~~~~~~~~~~~~~~~~~~~~~~~~~
Push-up Session #7
Monday, January 16, 8:15 AM
Total Push-ups This Session
10 X 14 = 140

Grand Total Push-ups
990/20,000

Supplements
IntraWorkout: Champion Performance Amino Shooter Core
PostWorkout: Champion Performance Syn Matrix

Comments
I was going for 150 total reps which would bring me up to 1000
I miss-counted the sets, and I only did 140 reps
Oh well… 990 it is

~~~~~~~~~~~~~~~~~~~~~~~~~~~~~~~~~~~~~~~~~~~~~~~~~~~~~~~~~~~~~~~
Push-up Session #8
Thursday, January 19, 6:00 AM
Total Push-ups This Session
10 X 15 = 150

Grand Total Push-ups
1,140/20,000

Supplements
PreWorkout: Strong Starbucks Coffee
PostWorkout: Champion Performance Syn Matrix

Comments
Finally hit the over-1000 mark
Slowly but surely…

~~~~~~~~~~~~~~~~~~~~~~~~~~~~~~~~~~~~~~~~~~~~~~~~~~~~~~~~~~~~~~~
Push-up Session #9
Saturday, January 21, 5:30 AM
Total Push-ups This Session
10 X 15 + 25 = 175
Grand Total Push-ups
1,315/20,000
Supplements
PreWorkout: Strong Starbucks Coffee
PostWorkout: Champion Performance Syn Matrix

Comments
Broke two camera tripods in two weeks
Time to buy a sturdier one…

~~~~~~~~~~~~~~~~~~~~~~~~~~~~~~~~~~~~~~~~~~~~~~~~~~~~~~~~~~~~~~~
Push-up Session #10
Monday, January 23, 6:00 AM
Total Push-ups This Session
10 X 15 = 150
Grand Total Push-ups
1,465/20,000
Supplements
Intra: Champion Performance Amino Shooter Edge, 1 scoop
Post: Champion Performance Syn Matrix, 1 scoop
Comments
Bought a THIRD camera tripod
Broke two tripods last week
This one is much sturdier 🙂

~~~~~~~~~~~~~~~~~~~~~~~~~~~~~~~~~~~~~~~~~~~~~~~~~~~~~~~~~~~~~~~
Push-up Session #11
Thursday, January 26, 6:00 AM
Total Push-ups This Session
10 X 14 = 140
Grand Total Push-ups
1,605/20,000
Supplements
PreWorkout: Strong Starbucks Coffee
Postworkout: Champion Performance Syn Matrix
Comments
You MUST check out the video at 1:25! 🙂

~~~~~~~~~~~~~~~~~~~~~~~~~~~~~~~~~~~~~~~~~~~~~~~~~~~~~~~~~~~~~~~
Push-up Session #12
Thursday, January 26, 11:00 PM
Total Push-ups This Session
105
Grand Total Push-ups
1,710/20,000
Supplements
PreWorkout: Strong Starbucks Coffee
Postworkout: Champion Performance Syn Matrix
Comments
I did TWO push-up sessions today
Isn't my dog scary? 🙂

~~~~~~~~~~~~~~~~~~~~~~~~~~~~~~~~~~~~~~~~~~~~~~~~~~~~~~~~~~~~~~~
Push-up Session #13
Saturday, January 28, 9 AM
Total Push-ups This Session
170
Grand Total Push-ups
1,880/20,000
Supplements
PreWorkout: Strong Starbucks Coffee
Postworkout: Champion Performance Syn Matrix
Comments
In a bit of a goofy mood this morning
Added some "Charlie dialogue" to my video :rolleyes:
You have my permission to laugh at me… 🙂
Watch at… 1:53 & 3:05
Please forgive me 😀

~~~~~~~~~~~~~~~~~~~~~~~~~~~~~~~~~~~~~~~~~~~~~~~~~~~~~~~~~~~~~~~
Push-up Session #14
Monday, January 30, 7AM
Total Push-ups This Session
150
Grand Total Push-ups
2,030/20,000
Supplements
PreWorkout: Strong Starbucks Coffee
Postworkout: Champion Performance Syn Matrix
Comments
Hit over the 2,000 mark in one month
Happy with that
I don't know… Charlie keeps talking to me… 🙂
2:18 & 6:25

~~~~~~~~~~~~~~~~~~~~~~~~~~~~~~~~~~~~~~~~~~~~~~~~~~~~~~~~~~~~~~~
Monthly Update: January
Total Push-ups This Month
2,030
Grand Total Push-ups
2,030/20,000
Comments
Time to increase the reps a bit
Still going for ~150 push-ups per session though
Time to try different push-up types
I think I'll add the IronGym for some sessions

~~~~~~~~~~~~~~~~~~~~~~~~~~~~~~~~~~~~~~~~~~~~~~~~~~~~~~~~~~~~~~~
Push-up Session #15
Thursday, February 2, 4:20AM
Total Push-ups This Session
150
Grand Total Push-ups
2,180/20,000
Supplements
PreWorkout: Strong Starbucks Coffee
Postworkout: Champion Performance Syn Matrix
Comments
IronGym Push-ups were a bit harder
Trying to increase my reps/set
Slowly but surely

~~~~~~~~~~~~~~~~~~~~~~~~~~~~~~~~~~~~~~~~~~~~~~~~~~~~~~~~~~~~~~~
Push-up Session #16
Saturday, February 4, 8:30AM
Total Push-ups This Session
150
Grand Total Push-ups
2,330/20,000
Supplements
IntraWorkout: Champion Performance Amino Shooter Core
Postworkout: Champion Performance Syn Matrix
Comments
Charlie seems to like being in these videos
Camera tripod problems… again 🙂

~~~~~~~~~~~~~~~~~~~~~~~~~~~~~~~~~~~~~~~~~~~~~~~~~~~~~~~~~~~~~~~
Push-up Session #17
Monday, February 6, 6:30AM
Total Push-ups This Session
150
Grand Total Push-ups
2,480/20,000
Supplements
IntraWorkout: Champion Performance Amino Shooter Core
Postworkout: Champion Performance Syn Matrix
Comments
Monday mornings are harder than other mornings
Barely made it to 150

~~~~~~~~~~~~~~~~~~~~~~~~~~~~~~~~~~~~~~~~~~~~~~~~~~~~~~~~~~~~~~~
Push-up Session #18
Thursday, February 9, 6AM
Total Push-ups This Session
170
Grand Total Push-ups
2,650/20,000
Supplements
PreWorkout: Strong Starbucks Coffee
Postworkout: Champion Performance Syn Matrix
Comments
Upper body felt great throughout morning, post-session

~~~~~~~~~~~~~~~~~~~~~~~~~~~~~~~~~~~~~~~~~~~~~~~~~~~~~~~~~~~~~~~
Push-up Session #19
Saturday, February 11, 8AM
Total Push-ups This Session
190
Grand Total Push-ups
2,840/20,000
Supplements
IntraWorkout: Champion Performance Creatine w/Green Tea
Postworkout: Champion Performance Syn Matrix
Comments
Wanted to increase the reps/set, and did
I still like X10/set for some reason
Better form, better endurance, etc.
Will see what happens moving forward
Happy with progress so far

~~~~~~~~~~~~~~~~~~~~~~~~~~~~~~~~~~~~~~~~~~~~~~~~~~~~~~~~~~~~~~~
Push-up Session #20
Monday, February 13, 8AM
Total Push-ups This Session
180
Grand Total Push-ups
3,020/20,000
Supplements
IntraWorkout: Strong Starbucks Coffee
Postworkout: Champion Performance Syn Matrix
Comments
Yay for the 3,000 Mark

~~~~~~~~~~~~~~~~~~~~~~~~~~~~~~~~~~~~~~~~~~~~~~~~~~~~~~~~~~~~~~~
Push-up Session #21
Thursday, February 16, 6:30AM
Total Push-ups This Session
150
Grand Total Push-ups
3,170/20,000
Supplements
PreWorkout: Strong Starbucks Coffee
Postworkout: Champion Performance Syn Matrix
Comments
Very tired this morning

~~~~~~~~~~~~~~~~~~~~~~~~~~~~~~~~~~~~~~~~~~~~~~~~~~~~~~~~~~~~~~~
Push-up Session #22
Saturday, February 18, 2AM
Total Push-ups This Session
215
Grand Total Push-ups
3,385/20,000
Supplements
Pre: Starbucks Coffee
Post: Champion Performance Syn Matrix, 1 scoop
Comments
CAN YOU TELL WHAT MOVIE WAS ON?
This was a late-night session
Right after a 2hour Cardio/FatBurn session
Felt awesome!


~~~~~~~~~~~~~~~~~~~~~~~~~~~~~~~~~~~~~~~~~~~~~~~~~~~~~~~~~~~~~~~
Push-up Session #23
Monday, February 20, 6:30AM
Total Push-ups This Session
180
Grand Total Push-ups
3,565/20,000
Supplements
Pre: Starbucks Coffee
Post: Champion Performance Syn Matrix, 1 scoop
Comments
Almost gave my dog a heart attack @7:00 🙂


~~~~~~~~~~~~~~~~~~~~~~~~~~~~~~~~~~~~~~~~~~~~~~~~~~~~~~~~~~~~~~~
Push-up Session #24
Thursday, February 23, 6:30AM
Total Push-ups This Session
150
Grand Total Push-ups
3,715/20,000
Supplements
Pre: Starbucks Coffee
Post: Champion Performance Syn Matrix, 1 scoop
Comments
Woke up sick
Glad I was able to pull through with 150 push-ups


~~~~~~~~~~~~~~~~~~~~~~~~~~~~~~~~~~~~~~~~~~~~~~~~~~~~~~~~~~~~~~~
Push-up Session #25
Saturday, February 25, 2:30AM
Total Push-ups This Session
225
Grand Total Push-ups
3,940/20,000
Supplements
Pre: Champion Performance Amino Shooter Core
Post: Champion Performance Syn Matrix, 1 scoop
Comments
Yay for session #25


~~~~~~~~~~~~~~~~~~~~~~~~~~~~~~~~~~~~~~~~~~~~~~~~~~~~~~~~~~~~~~~
Push-up Session #26
Saturday, March 4, 8:30AM
Total Push-ups This Session
150
Grand Total Push-ups
4,090/20,000
Supplements
Pre: J530 Ignition
Intra: Gaspari HyperAmino
Post: Champion Performance Syn Matrix
Comments
Finally was able to work out again
One week later
Knee feeling much better


~~~~~~~~~~~~~~~~~~~~~~~~~~~~~~~~~~~~~~~~~~~~~~~~~~~~~~~~~~~~~~~
Push-up Session #27
Monday, March 6, 6:30 AM
Total Push-ups This Session
180
Grand Total Push-ups
4,270/20,000
Supplements
Post: Champion Performance Syn Matrix
Comments
Back at it


~~~~~~~~~~~~~~~~~~~~~~~~~~~~~~~~~~~~~~~~~~~~~~~~~~~~~~~~~~~~~~~
Push-up Session #28
Saturday, March 11, 8:30PM
Total Push-ups This Session
177
Grand Total Push-ups
4,447/20,000
Supplements
Post: Champion Performance Syn Matrix
Comments
Been a week
WATCH ME PLAY THE UKE @ END OF VIDEO 🙂
Picture is a bit darker than usual – different room


~~~~~~~~~~~~~~~~~~~~~~~~~~~~~~~~~~~~~~~~~~~~~~~~~~~~~~~~~~~~~~~
Push-up Session #29
Tuesday, March 14, 6AM
Total Push-ups This Session
153
Grand Total Push-ups
4,600/20,000
Supplements
Post: Champion Performance Syn Matrix
Comments
Slowly inching toward half-way point
Not really 🙂


~~~~~~~~~~~~~~~~~~~~~~~~~~~~~~~~~~~~~~~~~~~~~~~~~~~~~~~~~~~~~~~
Push-up Session #30
Friday, March 17, 6AM
Total Push-ups This Session
210
Grand Total Push-ups
4,810/20,000
Supplements
Post: Champion Performance Syn Matrix
Comments
Yay for Session #30
I will soon increase my reps per set
Started with 10, then 12, now @15
Will probably go to 17 soon


~~~~~~~~~~~~~~~~~~~~~~~~~~~~~~~~~~~~~~~~~~~~~~~~~~~~~~~~~~~~~~~
Push-up Session #31
Saturday, March 25, 8:30AM
Total Push-ups This Session
225
Grand Total Push-ups
5,035/20,000
Supplements
IntraWorkout: Champion Performance ASE (see video)
PostWorkout: Champion Performance Syn Matrix
Comments
Back at it
Charlie is back at it also
See him right after the Amino section


~~~~~~~~~~~~~~~~~~~~~~~~~~~~~~~~~~~~~~~~~~~~~~~~~~~~~~~~~~~~~~~
Push-up Session #32
Tuesday, March 28, 8AM
Total Push-ups This Session
230
Grand Total Push-ups
5,265/20,000
Supplements
PostWorkout:
Champion Performance Syn Matrix w/Fried Eggs X4
Comments
My push-ups need more depth


~~~~~~~~~~~~~~~~~~~~~~~~~~~~~~~~~~~~~~~~~~~~~~~~~~~~~~~~~~~~~~~
Push-up Session #33
Thursday, March 30, 7:30AM
Total Push-ups This Session
200
Grand Total Push-ups
5,465/20,000
Supplements
PostWorkout:
Champion Performance Syn Matrix
Comments
Tried to improve the depth on the push-ups
I think it's a bit better
Will continue to improve on that


~~~~~~~~~~~~~~~~~~~~~~~~~~~~~~~~~~~~~~~~~~~~~~~~~~~~~~~~~~~~~~~
Push-up Session #34
Saturday, April 1, 7AM
Total Push-ups This Session
195
Grand Total Push-ups
5,660/20,000
Supplements
PostWorkout:
Champion Performance Syn Matrix
Comments
I am liking the depth on my push-ups now
Will improve on that even more


~~~~~~~~~~~~~~~~~~~~~~~~~~~~~~~~~~~~~~~~~~~~~~~~~~~~~~~~~~~~~~~
Push-up Session #35
Monday, April 3, 11PM
Total Push-ups This Session
200
Grand Total Push-ups
5,860/20,000
Supplements
PostWorkout:
Champion Performance Syn Matrix
Comments
Felt quite different to do this late at night
Did Chest & Shoulders earlier in the day…
Upper body is sure sore now
"Charlie Moment" @5:00 🙂


~~~~~~~~~~~~~~~~~~~~~~~~~~~~~~~~~~~~~~~~~~~~~~~~~~~~~~~~~~~~~~~
Push-up Session #36
Friday, April 7, 11PM
Total Push-ups This Session
220
Grand Total Push-ups
6,080/20,000
Supplements
IntraWorkout:
RSP Sports Nutrition AminoFocus Raspberry Limeade
PostWorkout:
Champion Performance Syn Matrix
Comments
Like Monday, did CHEST earlier in the day
Did this session @11PM
Quite taxing on my upper body
Great pump!
Hit the 6K mark 😀


~~~~~~~~~~~~~~~~~~~~~~~~~~~~~~~~~~~~~~~~~~~~~~~~~~~~~~~~~~~~~~~
Push-up Session #37
Monday, April 10, 11:30PM
Total Push-ups This Session
200
Grand Total Push-ups
6,280/20,000
Supplements
IntraWorkout:
PreWorkout: RSP Nutrition Fast Fuel
PostWorkout: Champion Performance Syn Matrix
Comments
Did this session late at night
Long, long day
Chest/Back earlier in the day
Very tired
Felt awesome when I was done


~~~~~~~~~~~~~~~~~~~~~~~~~~~~~~~~~~~~~~~~~~~~~~~~~~~~~~~~~~~~~~~
Push-up Session #38
Friday, April 14, 2:30AM
Total Push-ups This Session
200
Grand Total Push-ups
6,480/20,000
Supplements
PreWorkout: RSP Nutrition Fast Fuel
IntraWorkout: RSP ReGen BCAA
PostWorkout: Champion Performance Syn Matrix
Comments
Woke up in the middle of the night
Couldn't sleep, so I did my push-up session
When done, I fell asleep pretty hard 🙂


~~~~~~~~~~~~~~~~~~~~~~~~~~~~~~~~~~~~~~~~~~~~~~~~~~~~~~~~~~~~~~~
Push-up Session #39
Tuesday, April 18, 10:30PM
Total Push-ups This Session
120
Grand Total Push-ups
6,600/20,000
Supplements
PreWorkout: RSP Nutrition Fast Fuel
PostWorkout: Champion Performance Syn Matrix
Comments
Late-night session
Was very tired for some reason
Could barely get a few sets in there


~~~~~~~~~~~~~~~~~~~~~~~~~~~~~~~~~~~~~~~~~~~~~~~~~~~~~~~~~~~~~~~
Push-up Session #40
Saturday, April 22, 2PM
Total Push-ups This Session
200
Grand Total Push-ups
6,800/20,000
Supplements
PostWorkout: Champion Performance Syn Matrix
Comments
That is one ugly t-shirt I'm wearing…
Throwing it out
Charlie did some push-ups, too
Look at 5:55


~~~~~~~~~~~~~~~~~~~~~~~~~~~~~~~~~~~~~~~~~~~~~~~~~~~~~~~~~~~~~~~
Push-up Session #41
Saturday, April 29, 9PM
Total Push-ups This Session
60 (see notes below)
Grand Total Push-ups
6,860/20,000
Supplements
PostWorkout: RSP Nutrition ReGen
Champion Performance Syn Matrix
Comments
I did 200 push-ups in this session
Was aiming for 8,000 total
iPhone was not backed up…
It stopped recording at 60…
I never noticed, and kept going
I will only count 60 for tonight's session
I want to document every push-up in the challenge
Thanks for watching

~~~~~~~~~~~~~~~~~~~~~~~~~~~~~~~~~~~~~~~~~~~~~~~~~~~~~~~~~~~~~~~
Push-up Session #42
Friday, May 5, 5PM
Total Push-ups This Session
140
Grand Total Push-ups
7,000/20,000
Supplements
PostWorkout: RSP Nutrition Glutagen Orange
Comments
Quite tired tonight due to low calories
Glad to hit the 7,000 mark
Can you see Charlie's little head on the side couch? 🙂
Thanks for watching

~~~~~~~~~~~~~~~~~~~~~~~~~~~~~~~~~~~~~~~~~~~~~~~~~~~~~~~~~~~~~~~
Push-up Session #43
Wednesday, May 10, 11PM
Total Push-ups This Session
185
Grand Total Push-ups
7,185/20,000
Supplements
PreWorkout: RivalUS
PostWorkout: RivalUS
Comments
I have to get more sleep
Quite tired lately
Charlie got a new haircut 😀
Forgot to add music to the video 🙂
Thanks for watching

~~~~~~~~~~~~~~~~~~~~~~~~~~~~~~~~~~~~~~~~~~~~~~~~~~~~~~~~~~~~~~~
Push-up Session #44
Saturday, May 13, 11:30PM
Total Push-ups This Session
195
Grand Total Push-ups
7,380/20,000
Supplements
PreWorkout: RSP Nutrition FastFuel
Comments
Not happy with the depth on these, in this session
Will improve next session
Thanks for watching

~~~~~~~~~~~~~~~~~~~~~~~~~~~~~~~~~~~~~~~~~~~~~~~~~~~~~~~~~~~~~~~
Push-up Session #45
Wednesday, May 17, 11PM
Total Push-ups This Session
200
Grand Total Push-ups
7,580/20,000
Supplements
PreWorkout: RivalUS
PostWorkout: RSP Nutrition Glutagen
Comments
Feel a bit better about the depth on the push-ups
Reduced the reps from 15 to 10
Oh, Carlie… 😀
Thanks for watching

~~~~~~~~~~~~~~~~~~~~~~~~~~~~~~~~~~~~~~~~~~~~~~~~~~~~~~~~~~~~~~~
Push-up Session #46
Friday, May 19, 11PM
Total Push-ups This Session
200
Grand Total Push-ups
7,780/20,000
Supplements
PreWorkout: RivalUS
PostWorkout: Champion Performance Syn Matrix
Comments
Almost skipped this session
Tired, late at night
Pretty heavy PUSH day earlier @gym
Want to get to 10K by June's end
No time for too much slacking
Thanks for watching

~~~~~~~~~~~~~~~~~~~~~~~~~~~~~~~~~~~~~~~~~~~~~~~~~~~~~~~~~~~~~~~
Push-up Session #47
Monday, May 22, 11:30PM
Total Push-ups This Session
220
Grand Total Push-ups
8,000/20,000
Supplements
PreWorkout: NutraBio Pre Watermelon
PostWorkout: Champion Performance Syn Matrix
Comments
10 reps seem to work well for me at this time
Feel better about depth & posture
More improvement needed
Thanks for watching

~~~~~~~~~~~~~~~~~~~~~~~~~~~~~~~~~~~~~~~~~~~~~~~~~~~~~~~~~~~~~~~
Push-up Session #48
Wednesday, May 24, 11:30PM
Total Push-ups This Session
150
Grand Total Push-ups
8,150/20,000
Supplements
PreWorkout: RivalUS
PostWorkout: Champion Performance Syn Matrix
Comments
Could only squeeze 150 reps
Long day and quite tired
Looking forward to hitting 10,000 soon
Thanks for watching

~~~~~~~~~~~~~~~~~~~~~~~~~~~~~~~~~~~~~~~~~~~~~~~~~~~~~~~~~~~~~~~
Push-up Session #49
Tuesday, May 30, 10PM
Total Push-ups This Session
200
Grand Total Push-ups
8,350/20,000
Supplements
Intra: Champion Performance AminoShooterEdge
Comments
The first couple sets are sometimes the hardest
Thanks for watching

~~~~~~~~~~~~~~~~~~~~~~~~~~~~~~~~~~~~~~~~~~~~~~~~~~~~~~~~~~~~~~~
Push-up Session #50
Monday, June 5, 10PM
Total Push-ups This Session
100
Grand Total Push-ups
8,450/20,000
Supplements
Pre: RivalUS
Intra: RivalUS
Post: RSP Nutrition Glutagen
Comments
Been a while…
Could only get 100 in
Was in fasted state
Thanks for watching

~~~~~~~~~~~~~~~~~~~~~~~~~~~~~~~~~~~~~~~~~~~~~~~~~~~~~~~~~~~~~~~
Push-up Session #51
Friday, June 9, 6AM
Total Push-ups This Session
100
Grand Total Push-ups
8,550/20,000
Supplements
Pre: RSP Nutrition Amino Focus
Post: Champion Performance Syn Matrix
Comments
Feeling good about my depth and ROM
Much better than before
A bit low on the numbers, but that's ok
Thanks for watching

~~~~~~~~~~~~~~~~~~~~~~~~~~~~~~~~~~~~~~~~~~~~~~~~~~~~~~~~~~~~~~~
Push-up Session #52
Friday, June 9, 11PM
Total Push-ups This Session
100
Grand Total Push-ups
8,650/20,000
Supplements
Pre: RSP DyNO
Comments
Two push-up sessions today
Thanks for watching

~~~~~~~~~~~~~~~~~~~~~~~~~~~~~~~~~~~~~~~~~~~~~~~~~~~~~~~~~~~~~~~
Push-up Session #53
Tuesday, June 13, 6AM
Total Push-ups This Session
190
Grand Total Push-ups
8,840/20,000
Supplements
Post: NitraBio Reload
Comments
Forgot to add background music 🙁
Thanks for watching

~~~~~~~~~~~~~~~~~~~~~~~~~~~~~~~~~~~~~~~~~~~~~~~~~~~~~~~~~~~~~~~
Push-up Session #54
Friday, June 16, 11:30PMM
Total Push-ups This Session
110
Grand Total Push-ups
8,950/20,000
Supplements
Intra: Diet Pepsi 😀
Comments
1 + 1 = 2
Thanks for watching

~~~~~~~~~~~~~~~~~~~~~~~~~~~~~~~~~~~~~~~~~~~~~~~~~~~~~~~~~~~~~~~
Push-up Session #55
Saturday, June 17, 1PM
Total Push-ups This Session
70
Grand Total Push-ups
9,020/20,000
Supplements
Pre: Gaspari SupraPump Max (2 scoops)
Intra: NutraBio IntraBlast (1 scoop)
Post: RSP Nutrition Glutagen (1 scoop)
Dymatize Elite Protein (2 scoops)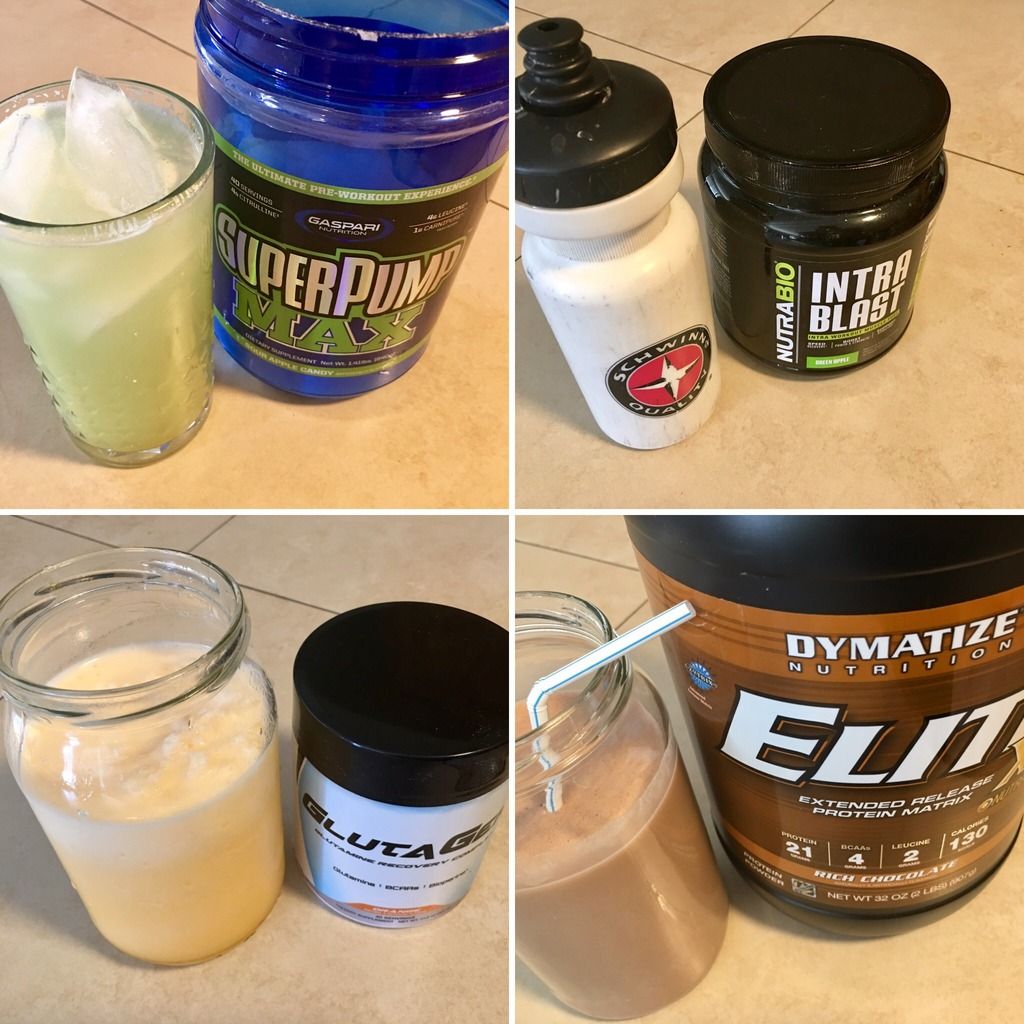 Comments
Took my son on a 17 Mile bike ride
Did my push-ups throughout the ride
Had a blast!
Nearing the 10K mark, slowly
Thanks for watching
~~~~~~~~~~~~~~~~~~~~~~~~~~~~~~~~~~~~~~~~~~~~~~~~~~~~~~~~~~~~~~~
Push-up Session #56
Tuesday, June 20, 5AM
Total Push-ups This Session
200
Grand Total Push-ups
9,220/20,000
Supplements
Pre: Dymatize PreWO – awesome stuff!
Intra: NutraBio IntraBlast
Post: Champion Performance SynMatrix
Comments
Maybe I CAN reach 10K by month's end
Thanks for watching
~~~~~~~~~~~~~~~~~~~~~~~~~~~~~~~~~~~~~~~~~~~~~~~~~~~~~~~~~~~~~~~
Push-up Session #57
Friday, June 23, 2PM
Total Push-ups This Session
130
Grand Total Push-ups
9,350/20,000
Supplements
none
Comments
Lots of workouts this week
Lots of caloric deficit this week
Could only put in 130
Thanks for watching
~~~~~~~~~~~~~~~~~~~~~~~~~~~~~~~~~~~~~~~~~~~~~~~~~~~~~~~~~~~~~~~
Push-up Session #58
Friday, June 23, 9:30PM
Total Push-ups This Session
100
Grand Total Push-ups
9,450/20,000
Supplements
none
Comments
Second push-up session today
Taking a break from Cardio for a few days
Left knee bothering me a bit
Thanks for watching
~~~~~~~~~~~~~~~~~~~~~~~~~~~~~~~~~~~~~~~~~~~~~~~~~~~~~~~~~~~~~~~
Push-up Session #59
Tuesday, June 27, 2PM
Total Push-ups This Session
150
Grand Total Push-ups
9,600/20,000
Supplements
Pre: Gaspari SuperPump Max
Intra: RSP Nutrition Amino Focus
Post: RSP Nutrition Glutagen
Comments
Had a hard time filming this
Kids kept walking in front of the camera
Charlie, of course, does not care
Thanks for watching
~~~~~~~~~~~~~~~~~~~~~~~~~~~~~~~~~~~~~~~~~~~~~~~~~~~~~~~~~~~~~~~
Push-up Session #60
Tuesday, June 27, 8:30PM
Total Push-ups This Session
100
Grand Total Push-ups
9,700/20,000
Supplements
none
Comments
Second push-up session today
Thanks for watching